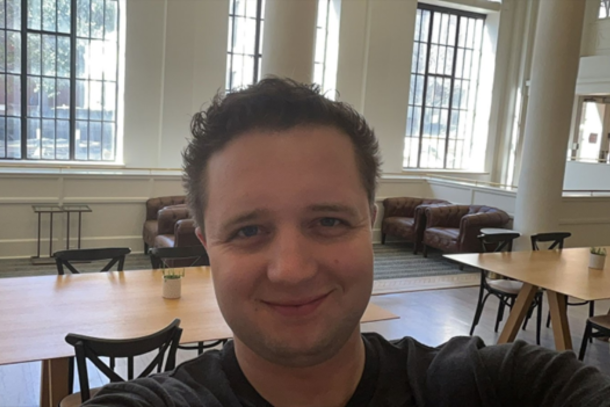 Flywheel Bryant Suellentrop Balances Growth
Behind the Grind: Flywheel Members Share Tidbits from Their Journey
Bryant Suellentrop is a 26-year-old entrepreneur who founded Elevate and Delegate, a virtual assistant staffing business. He shares his experiences in starting a business, balancing life as a new dad, and great insights on building relationships to grow your business.
Bryant moved to Concord, NC in July 2022. Before that, he grew up and went to college in Kansas. He was working on commission as a sales representative when the pandemic happened, and he suddenly wasn't able to earn a living. He decided at that time to move from Wichita, Kansas where he knew everyone to Greenville, North Carolina where he knew nobody.
Starting off in North Carolina, Bryant had very little money and virtually no skills besides doing some marketing on the side in college. He took on some cleaning clients to help pay the rent and get his wife through graduate school. He set up a website and eventually landed his first commercial account. He quoted them a reasonable amount and the company accepted. Bryant thought he was doing great since that's what he was making per month at his previous job. At the time, he wasn't thinking about needing supplies to clean, employees, and so on.
Bryant made it through the initial start of his business and was eventually able to hire employees as his cleaning company grew, but he was still doing everything in his business.
Eventually, Bryant came to the Charlotte area to talk to a friend of his who owned a cleaning business with about 50 employees and made a few million dollars a year. He asked him how they were keeping all those cleaners, interviewing them all the time, and taking care of everything else. His friend recommended hiring some administrative help from the Philippines to assist him with managing his time better.
Bryant eventually hired a virtual assistant named Hazel who has been working with him for the last three years. Having someone to help him recruit cleaners and do some of the administrative work has been life changing for him.
Starting Elevate and Delegate
Soon, Bryant's business owner friends began asking him for help setting up a virtual assistant like he had. This was around the time his son was born, so he got really busy. He was about to move to Concord to be closer to his wife's family, so he left his cleaning business in Greenville where he has managers and employees, but is completely uninvolved.
Last year, he started fully focusing on building his virtual assistant staffing business. He has helped over 200 people in the Philippines find jobs with U.S. companies, usually doubling to tripling their income. They went from making around $2-$2.50 an hour to $7 an hour, which is considered good pay there. It has been life changing for them to go from such low wages to actual livable wages in their countries.
Elevate and Delegate served around 150 businesses last year and most of them are small companies. They are mom and pop shops, real estate agents, and so on. These are businesses who don't have $50,000 to hire a virtual U.S. employee.
What Sets Elevate and Delegate Apart?
What sets Elevate and Delegate apart from other companies is that they do not charge subscription or monthly fees. His company charges a one-time fee to pair the business with the right virtual assistant. They guarantee the virtual assistant is going to work out and if it somehow doesn't, they'll replace them. After that, you don't pay them another dollar unless you want to hire another virtual assistant. "I don't need to be mooching off the wages of a person who lives in a third world country, which is how 99% of the industry operates."
He says you can learn from family with businesses or from courses, but the most he's learned has been from being out there and doing the work. Bryant says you can plan, strategize and listen to a lot of podcasts, but they won't do anything for you if you don't take action.
Most of Bryant's team do not work U.S. hours. Most of them are working Philippine local hours while a couple of them are working U.S. hours. What Bryant is seeing more and more of is U.S. companies hiring one American employee instead of three like they typically would. They pay that one employee at a higher rate and it is their responsibility to "drive the ship." The rest of the company is then run overseas by remote virtual assistants.
Engaging with Others
Bryant is extroverted and can talk to anyone. Instead of scrolling through social media, he prefers going out to see who is at the Cabarrus Center so he can meet real people in person in real time. His exception is Twitter, which he says is his best revenue generating social media tool. He goes on there to connect with others, learn about what they do and connect them with others.
Being exposed to other people is important because you never know what someone will say that will spark a new idea or become the solution to a problem you have.
Home-Life Balance
As a father of two young children, Bryant tries to work at the Cabarrus Center from 7:30am until around 3:00pm. He has a nanny at home to watch his children, then he goes home to them in the afternoon, and his wife works until 5:30-6:00pm. His neighbors often mistake him as a stay-at-home dad because he's able to be home to take his kids on walks during the day. His work has allowed him a lot of flexibility to work from the Cabarrus Center while other times he is able to work from home if he needs to.
The thing he really likes about having a Flywheel membership is that he can go in as he needs to and be home as he needs to. It has helped him balance his day and be more flexible for his family. When he goes home after working at the Cabarrus Center, he unplugs from work and focuses on his family. He has a one-month old daughter and 17-month old son.