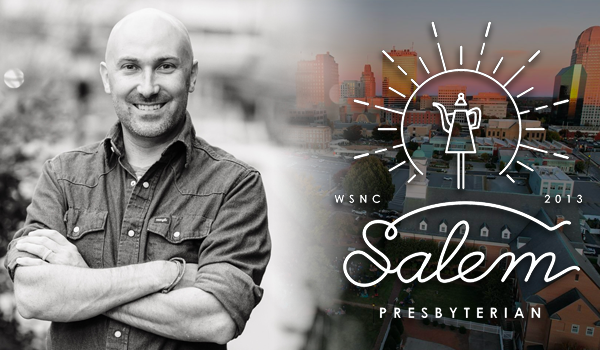 Why Taking a Sabbatical Made a Difference for Rev. Austin Pfeiffer
Behind the Grind: Flywheel Members Share Tidbits from Their Journey
If you are a member of Flywheel Coworking in Winston-Salem, you probably know Rev. Austin Pfeiffer. He is the Pastor of Culture & Liturgical Arts at Salem Presbyterian Church in Winston-Salem, and he is also the second most tenured member at Flywheel's flagship location.
He has been a member since 2016, spent time at all three locations in WS, and even recently traveled to the Concord location with his team since membership is reciprocal at other Flywheel locations.
But the trip that really had a lasting impact on Pfeiffer was the 3-month sabbatical he took to rural Oregon. He grew up there but has lived in 9 different states total and plans to make Winston-Salem, NC his family's last stop because they love it there. "This is a place where you can be a part of culture-making," he said. "It's not a finished space. It's not a place where people have already implemented their ideas and there is no space for new things, and I love that about Winston."
Salem Presbyterian operates out of a shared space with Calvary Moravian Church, offering a Sunday evening service, which is why they have always worked out of Flywheel. After his 8th year with the church, they offered him a sabbatical.
At a recent "You're So Fly" gathering, he shared why he thinks it's important for companies to consider offering one to employees and what he gained from the experience. Sabbaticals take many forms, but Pfeiffer believes you need to both get out of town and your familiar routines and do it for more than just a couple of weeks.
He completely removed himself and his wife and four children from all their normal activities and removed himself from many acquaintances as well. "Being a pastor is kind of like being a high school principal if all of your students had your phone number." So, he even went so far as to have his phone number temporarily changed for 3 months so he could not be reached to truly embrace this time away.
He came back with what he calls a focus of "majoring on the majors and minoring on the minors." He recognized the number of menial things he had built into his weekly rhythms that were really disrupting his ability to focus on doing meaningful work. He pointed out that it can be hard to evaluate that when you are in the midst of it.
One activity that his team did in preparation for Pfeiffer's absence, was to make a Google Sheet and list all their own job responsibilities because someone would have to take care of all of Austin's. They also had to write down what they thought each of their fellow team members did in their jobs. The exercise really helped them understand each other's responsibilities better while also evaluating certain tasks that might not be necessary. It forces you to evaluate your systems when you spread out the workload of the person on sabbatical.
Learning what he was doing that was unnecessary was one of the many lessons Pfeiffer learned during his sabbatical. He spent a lot of his time creating new ways to evaluate requests that come his way and determine whether they are worth doing so he doesn't focus too much on those "minors" and has more time for the long-range planning he is focused on now. That clarity of thought took several weeks to accomplish because he was burnt out and didn't even realize it.
"If you would have asked me if I was burnt out before the sabbatical, I would have said no. I would have said I was thriving," he shared. Pfeiffer also co-owns West Salem Public House which opened 5 years ago. "Our business was fun; our church team had never been stronger; and it felt like an easy time to walk away. Then I listened to a Brené Brown podcast about burnout and realized I fit the criteria."
"I was pretty unaware of my burnout and it took a week of road-tripping, a week of rest (sleeping 12-13 hours a day), then crashing, and then a couple of weeks of rebuilding. During the crash, "I started to think, I'm about to turn 40 and I've done nothing with my life."
During the podcast, he learned that one of the signs of burnout is diminished self-accomplishment. You tend to move into stress cycles and yet you never come out of them. "It took 12 weeks to see all that I am thankful for the clear-headedness I feel now." His coworkers call it his "Sabbatical Pfeiff Vibes."
He still feels really revitalized to the point that he can enter tough conflict and decision-making situations and that he can make it many more years. "Had I not gone on a sabbatical, I probably would have crashed mid-year and then probably looked for another job." Sabbaticals are becoming more and more popular as another incentive to retain employees, especially those in helping professions where stress is high.
Pfeiffer also learned how to think with more clarity about who he is within a space when he walks into meetings. He's also learned not to say yes to projects or invitations without thinking about how it fits into his big picture first.
In the end though, he really wanted to be back at work. "I missed it. I love my vocation, and now I don't come to work, thinking…Oh, another Monday. I'm looking forward to what is ahead."
Salem Presbyterian meets every Sunday at 5pm in downtown Winston-Salem on the campus of Calvary Moravian Church at 600 Holly Ave. for music, liturgy, a sermon, and the Lord's Supper.